With growth comes the need to have a clean, simple, and awesome login experience; and with the latest release of our software we bring that to you.
New Domain
Elmo Anywhere has officially moved away from the domain https://www.elmoanywhere.com and now resides on https://app.elmoanywhere.com; this will allow us to keep our website and blog on the same domain as the application and make it easier to expand the services we can offer to you. Here is what this really means for you:
Your bookmarks to saved pages in Elmo Anywhere will no longer work and will need to be redone
Going to the www.elmoanywhere.com website will now show you the Elmo Anywhere marketing website and not the app
You can now login to the Elmo Anywhere application from the Elmo Anywhere marketing website
Login process

To login Elmo Anywhere click the login link in the top right hand corner of the navigation menu; and you will be presented with the new login modal.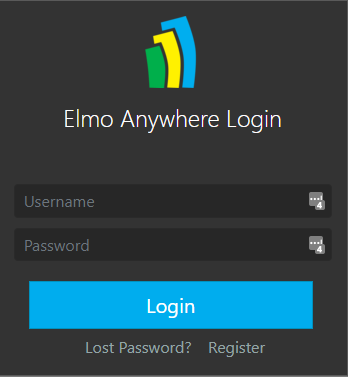 Entering your Elmo Anywhere credentials here will take you directly into the application. But you can always reach the old login page by going directly to the application by navigation to https://app.elmoanywhere.com.
Password Reset
Password reset functionality has also been added to the new login process on the Elmo Anywhere marketing site; just one more step to better accessibility to the features you need.