Last night we updated the Elmo Anywhere platform with our "August 18 Release." This update includes a lot of great features and enhancements, so I'd like to take some time and go over them.
New Login Experience
We've moved our main website from https://signup.elmoanywhere.com to https://www.elmoanywhere.com. Now that our software has been fully-launched, we thought it was a good idea to move our main website into the limelight. To accommodate this change, we needed to move the "application" portion of Elmo Anywhere. You can now access the Elmo Anywhere application directly by going to https://app.elmoanywhere.com. Don't worry, we won't change that URL again -- Elmo now has a permanent home!
Mygrant Integration Added to GlassCheck
We have finally finished our integration with Mygrant. You can now use our GlassCheck feature to automatically search PGW, Pilkington, Mygrant, and Kryger Glass. With a click of the button, you can find the supplier with the best price and availability, then order it directly from Elmo Anywhere. No more clicking between tabs or waiting on hold with your supplier! Here's what it looks like: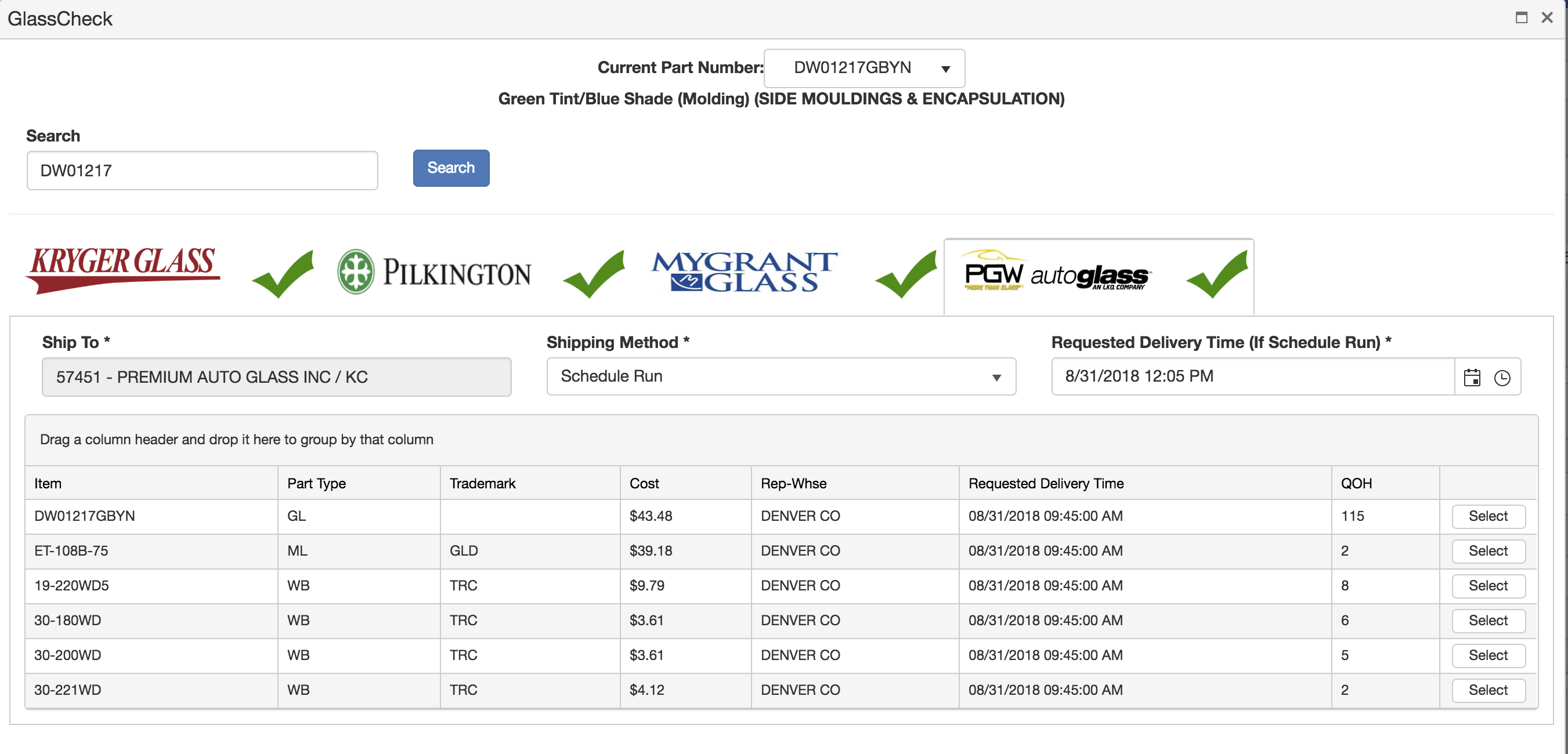 NAGS Database Updates
We actually updated the NAGS database for Elmo Anywhere the day after we received it from Mitchell. Because Elmo Anywhere is a cloud-based application, we can do these updates automatically without any downtime. All new vehicles and parts are already activated in the system and the new pricing will go live on 9/10/18 automatically.
New Pricing Functionality in our Web API
You might not know this, but Elmo Anywhere has an extensive Web API that allows third-party developers to leverage our NAGS database and quoting engine. We use it for our own retail stores (www.krygerglass.com) to automatically generate precise quotes for retail customers online. As of today, this API has been updated to use our Cost Plus pricing engine and actually retrieve pricing from suppliers to calculate a quote for your customer. This allows you to give accurate and profitable quotes via your website without having to worry how you're going to find the glass!
New A/R Aging by Customer Report
There is a new report in the system that shows a summary of your Accounts Receivable balances by customer. This will give you a quick view of where your accounts stand based on the terms you have set on each invoice. This is a first step of many to fine-tune our Accounts Receivable functionality. We don't want to reinvent the bookkeeping wheel (we think Quickbooks does a great job), but we want to offer you good tools to keep track of your receivables. As always, if you have a suggestion, please send us a request at support@elmoanywhere.com.
New Chat Service Provider
In order to better serve our customers, we've decided to update our in-app chat service to be better integrate with our support platform. It's my hope that this change will result in better response times for our chats and also enable our customers to more easily find answers to their questions.
Minor Enhancements and Bug Fixes
Bill To Customer lists now have a new "contains" search function at the top of the list.This will allow you to quickly find contacts when your list is quite long.

Simply start typing and it will filter the list accordingly.
We've made various performance improvements across the entire Elmo Anywhere platform:

Change some server backend structure to make page loading faster, especially the first time a page is loaded.
Moved to HTTP/2 protocol to remove the 6-tab limit
Improved query performance on various contacts lists

Scheduler changes:

Added Company Name to Scheduled Event
Added link to Order on Scheduled Event
All-day events now display their details correctly

EDI Changes:

EDI Manager grid will now load with a default date setting for the prior year to current.This is to limit the amount of data displayed to increase performance.
EDI process will now accommodate authorized parts correctly.

Resolved various bugs with the Credit Memo process
Balance due is now set to $0.00 when an order is voided.
Carriage Returns are now available on Message fields.
Kit Parts (urethane) are now added when an interchange part is added to an order.
Statement Report should now list everything in order.
Shops are now displayed in the Glaxis Dispatch grid if a site has more than one shop enabled.
I've very proud of the work our team has done and believe these changes continue to make Elmo Anywhere the best point-of-sale solution for the Retail Auto Glass Industry. As always, if you would like to request new features, please reach out to me or my team so we can discuss them!
Thank you,
Russell Warren