Coming Soon to

The new Elmo Anywhere Mobile Technician app works side by side with Elmo Anywhere and allows auto glass technicians access to essential order information while on the go. Technicians can use their phones and tablets to update orders, email the customer, capture an electronic signature, plan their day, load their trucks with correct parts and add payments in an easy to use and simple product that is mobile friendly.
An Installer has access to the following features when using the Mobile Technician app:
VIN Image Processing (Powered by Microsoft Azure)
Secure Credit Card Image Processing (Powered by PayPal)
Task Scheduling
Bill To/Sold To Customer, Vehicle, Notes and Insurance Information
Orders and Parts Lists
Invoicing and Payments (Including Stripe credit card processing)
Electronic Signature Capture
Order Status
Native Phone Number dialing and navigation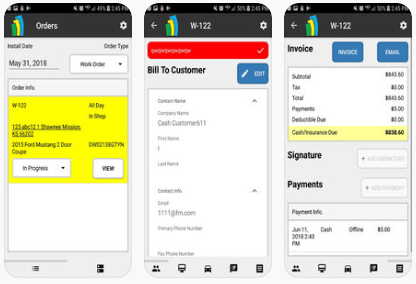 Requirements:
Android version 7.1 (Nougat) and above.
Apple version 10.3 and above.
User must be an Elmo Anywhere Installer to use Mobile Technician app.
User must have Mobile Technician Site Feature enabled and valid Licenses.
If you would like to test new features and try the new Elmo Anywhere (Mobile Technician) app, please contact Customer Service at customerserver@elmoanywhere.com